Lil Nas X "Thought I Made It Obvious" as he 'comes out' as gay
When will people stop being bullied into officially having to make a statement and 'come out' of this metaphorical closet that we speak of? Not to say that this news will never have come out organically, but the way this is happening is not healthy. The latest to have the light shun on them is the relatively new Hip-Hop star Lil Nas X.
The 20 year-old rapper from Atlanta, Georgia in the States has been dragged mercilessly online for not only his sexuality, but for allegedly being a 'Barb', for sending nudes to people he's messing with and much more. Twitter users went as far as locating old screenshots of his burner Twitter account @nasmaraj where he was a s-t-a-n for Nicki Minaj. This all came to light on a #LilNasXIsOverParty thread where users worldwide made sure we knew everything about him; from the bad to the even worse.
One user '@Lalaxo__' is quoted saying:
"Y'all been waiting to see him fall. Can't stand to see a young black man be great, huh? Stans and cancel culture are so gross  Good thing they only exist on social media. He'll be fine."
Lil Nas X kept silent for the most part, considering his album '7' was just released and his hit 'Old Town Road' was still doing numbers, this was free press for the kid. Regardless, the cancel culture is in full force.
Last night, on the last day of Pride Month, Lil Nas X tweeted this: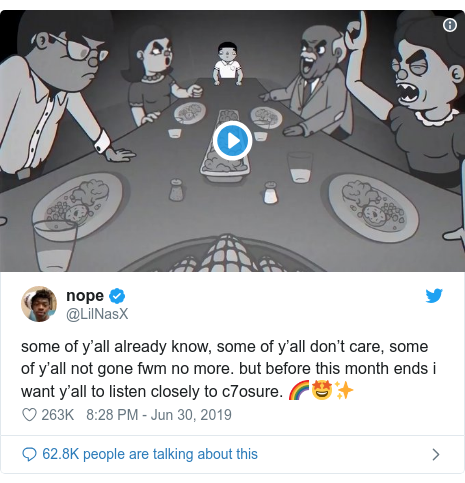 He also posted his album artwork, pointing out that it cryptically featured the Pride flag amongst an array of colourful buildings; not that we would have realised.
The real issue lies within the fact that how he loves and WHO he loves is his decision. He can love them in whatever capacity he wants; in the public or in private. However, when a 20 year-old who is still learning about himself is forced to do it in front of the world on someone else's time instead of his own, that can affect him in so many ways. This culture of outing people for the sake of it is gross and invasive to the nth degree. I can't even think about what could be done about this to stop this from continuing to happen but it needs to stop.
In other news, Lil Nas X's album '7' is currently sitting at number 22 on the UK Album chart, number 2 on the US Billboard 200 and in the Top 20 in Australia, New Zealand, Ireland, Finland and Sweden. Stream it on Spotify, Apple Music and all other streaming platforms. Listen to Blanguage SNDS: Weeklist on Spotify and Apple Music where Lil Nas X is our cover artist this week.
Words by Diartha.
---